Concorde Specialty Gases offers high precision pressure regulators for SF6 gas which are specifically designed to control gas pressure for a lower, more consistent working pressure.
SF6 Pressure Regulators – Gas Filling Equipment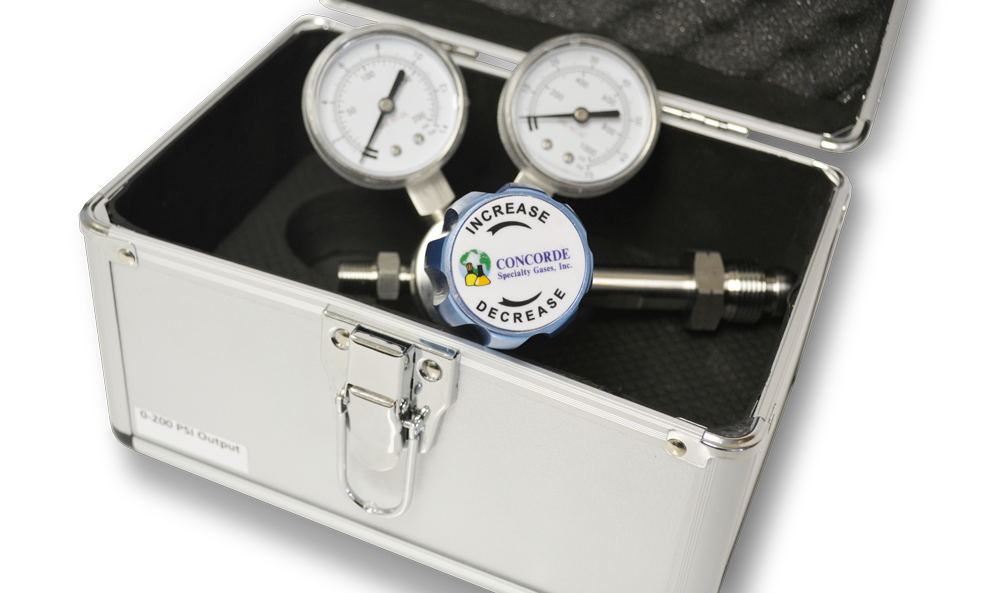 Concorde has established itself as a reliable SF6 gas provider as well as a reputable service partner throughout our 20 years in business. In our experience, we have seen what works and what does not and wanted to craft the best tools to guarantee the best service. We are eager to share that we have developed our own regulator to further and better assist us during our on-site services.
Our SF6 gas regulators are made of stainless steel which promises durability and a quality product. The diaphragm, however, is made of hastelloy steel, a nickel-based steel alloy which exhibits high resistance to corrosion and oxidization. Hastelloy metal is widely regarded as one of the world's toughest alloys and benefits in the critical application and the longevity of a project. Furthermore, the regulator consists of:
An easy to maneuver knob
Input and output gauge with a 2 inch diameter
¼ inch NPT outlet fitting
4 inch inlet nozzle to ensure adequate work space for hand tools
Three different output ranges:

0-60 PSI
0-150 PSI
0-200 PSI

Housed in a small lightweight secured lock box
Surrounded by fitted foam
Body burst pressure up to 4350 PSI
This is unquestionably an instrument that will enhance the great service we already provide!
These regulators are intended for primary pressure control on non-corrosive, high purity or liquefied gases (up to grade 4.5) in applications where minor fluctuations in outlet pressure, due to diminishing inlet supply pressure, can be tolerated.
High Pressure Hoses and Fittings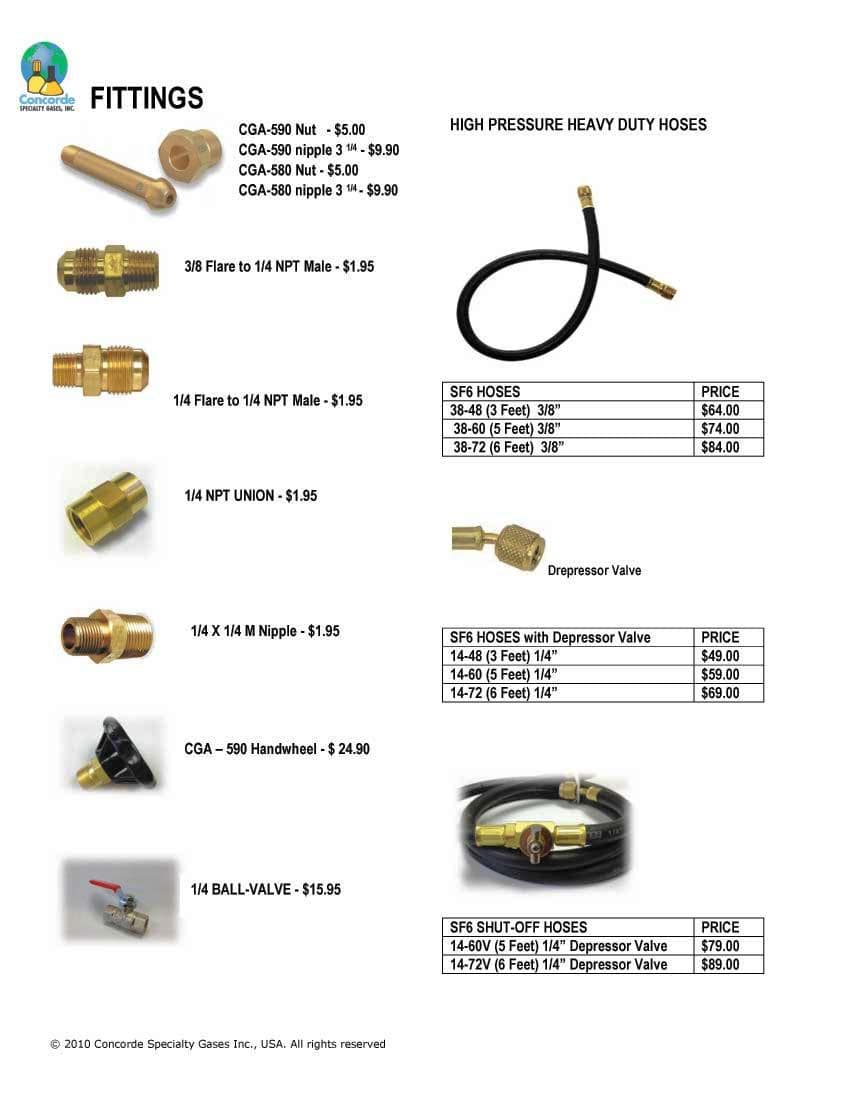 Concorde Provides:
SF6 Gas
C3F8 Gas (R-218)
CF4 Gas (R-14)
Neon Gas
Xenon Gas
Krypton Gas
Custom Gas Blends
International Shipping
ISO 9001:2015 Certified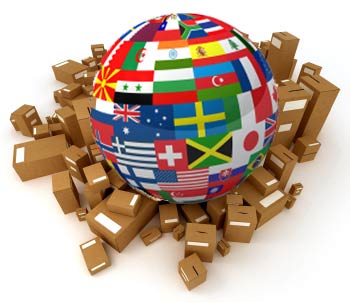 Concorde Gas Customer Pledge:
100% Product Quality Warranty - Random testing by leading independent laboratories to ensure consistent product quality.
100% Product Replacement Guarantee - If any Concorde Gas product fails to meet or exceed our published quality standards, we will provide a full replacement, including all shipping expenses.
Turnaround in One Business Day or Less - from order to shipment in the Continental US!
Customer Satisfaction Guarantee - We will do whatever it takes to assure that our customers are completely satisfied with Concorde's Products and Service.
Recycling Programs - designed to save you money and do our part for the environment!
Concorde Gas Services:
Cylinder Purchase, Rental, Trade-ins
Customer Cylinder Refills
Same Day Shipping
Drop Ship Services
Private Label (OEM) Programs
Recycling Services
Custom Designed Cradle to Grave Programs
Major Credit Cards Accepted